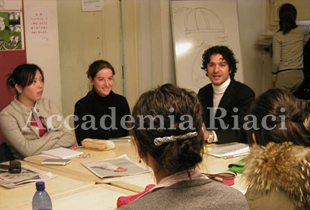 If you want to study English abroad, the best way is to enjoy learning it at the place you love and always wanted to visit!
Located in the center of Florence, Italy, our English language courses will let you learn English from native English-speaking instructors.
Why not spend this summer enjoying Italian arts and culture, delicious Italian cuisines, and pleasant climates at the same time you study English?
Class Levels
A (Entry – Beginner)
B (Intermediate)
Our school building can be found in between San Lorenzo Church and the Duomo, which certainly is the most beautiful location in the center of Florence histrical center. Our lessons take place in this beautiful 15th-century building.
We accept many students not only for language courses, but also for art courses. You can therefore take numerous other art lessons at the same time. Don't miss this chance to get familiar with Italian arts & culture.
2 weeks Course Sample Schedule
week
day
AM
PM
1st week
Sun.
Arrival in Florence
Mon.
Orientation, City tour, Welcome Lunch
Free time
Tue.
Lessons
Free time
Wed.
Lessons
Free time
Thu.
Lessons
Free time
Fri.
Guided art visits
Free time
Sat.
Cultural Activity
2nd week
Sun.
Free time
Mon.
Lessons
Free time
Tue.
Lessons
Free time
Wed.
Lessons
Free time
Thu.
Lessons
Free time
Fri.
Guided art visits
Free time
Sat.
Housing Check-out
Fees and Schedule

(fees - includes accommodation, meal vouchers (2 meal vouchers + 2 drink (coffee/tea/mineral water) vouchers per week), and weekly visits, etc.)
2 weeks
4 weeks
6 weeks
8 weeks
12 weeks
Fees (Tuition Fee + Accommodation, etc.)
€1,350
€2,450
€3,680
€4,690
€6,780
Credits
2
4
6
8
12
Check-in (Sun) - Check-out (Sat)
[ 2022 ]
May 1 – May 14
May 15 – May 28
May 29 – Jun. 11
Jun. 12 – Jun. 25
Jun. 26 – Jul. 9
Jul. 10 – Jul. 23
Jul. 24 – Aug. 6
Aug. 21 – Sep. 3
Sep. 4 – Sep. 17
Sep. 18 – Oct. 1
[ 2022 ]
May 1 – May 28
May 15 – Jun. 11
May 29 – Jun. 25
Jun. 12 – Jul. 9
Jun. 26 – Jul. 23
Jul. 10 – Aug. 6
Jul. 24 – Sep. 3
Aug. 21 – Sep. 17
Sep. 4 – Oct. 1
[ 2022 ]
May 1 – Jun. 11
May 15 – Jun. 25
May 29 – Jul. 9
Jun. 12 – Jul. 23
Jun. 26 – Aug. 6
Jul.24 – Sep.17
[ 2022 ]
May 1 – Jun. 25
May 15 – Jul. 9
May 29 – Jul. 23
Jun. 12 – Aug. 6
Jun.26 – Sep. 3
Jul. 24 – Oct. 1
[ 2022 ]
May 1 – Jul. 23
May 15 – Aug. 6
May 29 – Sep. 3
Jun. 12 – Sep. 17
Jun.26 – Oct. 1
Note:
Due to a SUMMER BREAK, the school will be closed from August 6, 2022, to August 21, 2022.

Including


Enrollment fee,
Tuition,
Facilities fee (no materials),
Orientation,
Welcome lunch,
Welcome kit (city map, pen, notebook, file folder, bus pass, one lunch ticket),
English interpreting service (during lessons with the professor),
Housing: shared apartment – twin room (single room available),
Housing utility expenses,
Meal vouchers (2 meal vouchers + 2 drink (coffee/tea/mineral water) vouchers per week),
Weekly guided art visits,
Cultural excursions : 1 time / 2 weeks (e.g.: ceramic laboratory visit, antique market of Arezzo visit, trip to Pisa, trip to a Tuscan farmhouse, Pizza lesson)

Number of Lessons

20 lessons / week (Group lessons Max 12 students)
15 lessons / week (Small-group lessons Max 6 students)
7.5 lessons / week (Private lessons 1students)
1 lesson = 45 minutes