Learn home cooking from a cooking expert whom Florentine gourmet buff trusts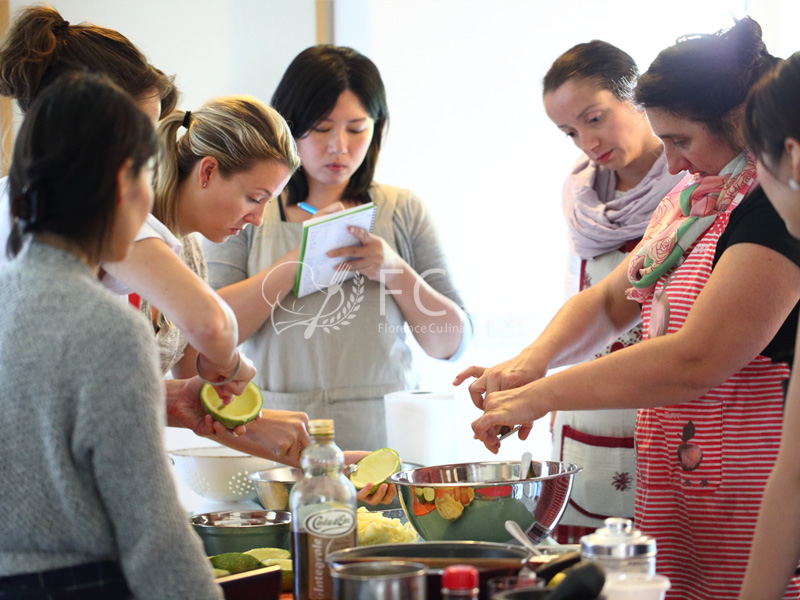 Florence is one of pre-eminent treasures of Europe, and it is a time to honored Mecca for sightseers from all over the world. But as a city, it can be Early Renaissance and retains many of impeccable fortresses like features of pre-renaissance Palazzi, whose facades were mostly meant to keep intruders out rather than to invite sightseers in. The typical Florentine exterior gives nothing away, as if obsessively guarding secret treasures within.
read more
Florence –Firenze in Italian– was discovered in the 19th century by the first historians. It became a Mecca for travelers, particularly the Romantics, including Keats and Shelly, who were inspired by the grandeur of its classism. Allure of Florence lay in its artistic treasures: They were captivated by Boticelli's smile, impressed by the graceful dignity of Donatello's bronze David. As the sun sets over the Arno and as Mark Twain described it, "overwhelms Florence with tides of color that make all the sharp lines dim and faint and turn the solid city into a city of dreams". It's hard not to fall under the city's magic spell.

The essence of Italian cooking is home cooking by Mamma. Tuscany is a treasure source of food material. Italy has so much different types of regional cooking and Tuscany's cooking is known as amalgam of both aristocratic and simple peasant cooking, thus, because the reason why it is called "gastronomic city". Florentine home cooking reminds us of the fact that our taste buds are so used to aesthetic aspects of appearances. The reverence and amore (love) for the nature is the source of Italian art as well as cooking. Real beauty of the tasteful Italian food can be found in Mother's cooking of which affectionate care and attention. As our home cooking instructor, Senora Fiametta says, "Home cooking should be handed down from a generation to generation. Its taste should be preserved in both tradition and in progress of culinary culture". The lessons are filled with a touch of lightness and humor that remind us once again of time our mothers used to show us the way of things. You forget your sense of time as you take these lessons.
Home cooking is an essence of Italian gastronomy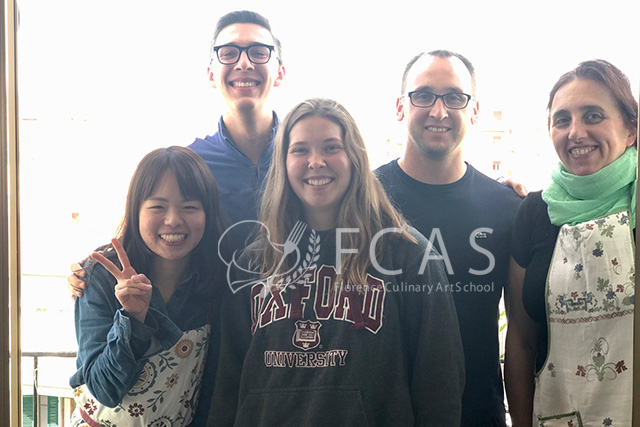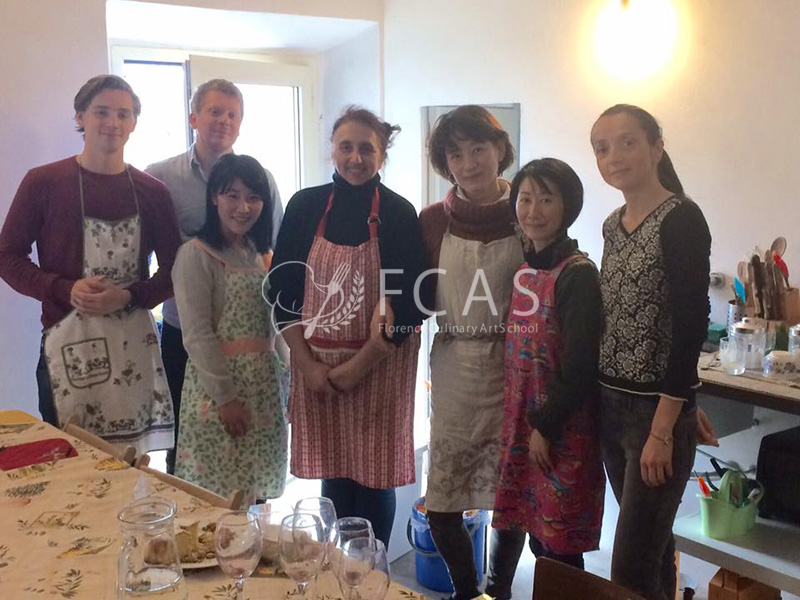 You can learn Italian way of life as well as cooking recipe. Florence surrounded by nature's bliss, rolling hills of grapes and wheat field. Mother's affections, people's smiles and tasteful food waits for unexpected guests at the dinner table. We are once again reminded that home cooking gives a place where friends and loved ones can give a blessing of life to each other. Home cooking doesn't drive from state-of-art restaurant kitchens but is borne from regular kitchens from regular home. Instructors wished students would use their own kitchens at home after they return home from lessons.
"Home cooking should not be overdone. It has to be something you don't get tired of, when you eat it everyday. Also it's importance lies in the fact that it can be prepared easily".
Study from home cooking expert/teacher
Recipe includes more than 65 items for one-month course
Florentine home cooking has a long history since Renaissance time. It has been developed by Etolrians from pre-Roman time on breeding method of chianina beef, meat dishes using gallina and rabbits. Others include dolce, vegetable cooking developed by aristocrats, sensitive attention given to traditional recipe mixed with simplicity of peasant cooking added with a personal touch of mother. Instructor will teach you at least 4-5 items for the full-course everyday. You will learn from 65 to 85 recipes for a month. See the sample menu

"As you already know, Tuscany's climate is best suited to wine making, Chianti, Brunerro di Montarchino are too famous to mention for their red. It is fun to matching recipe to wines."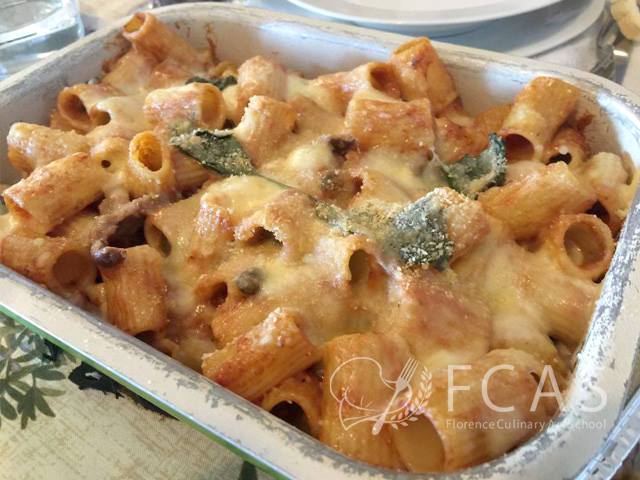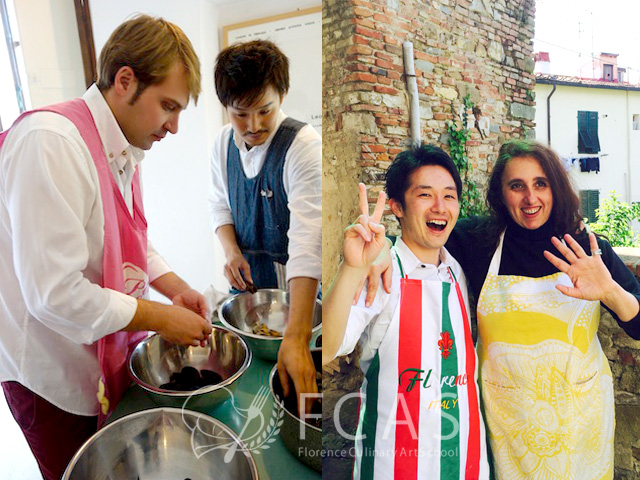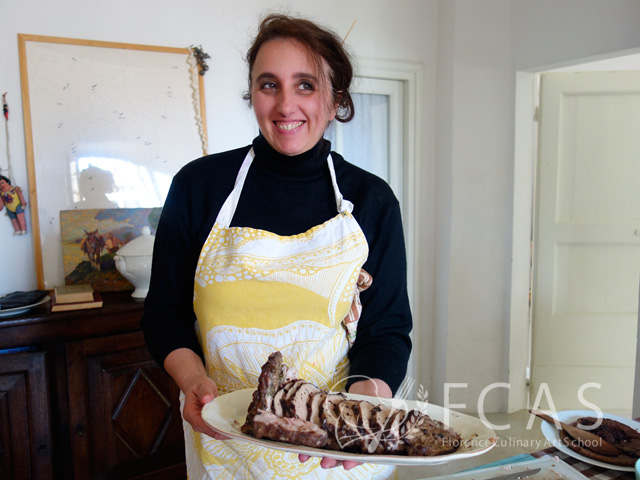 Fees and Schedule

(fees - includes accommodation, meal vouchers (2 daily meal vouchers a week + 2 Coffee/tea/mineral water vouchers a week), and weekly visits, etc.)
2 weeks
4 weeks
6 weeks
8 weeks
12 weeks
Fees (Tuition Fee + Accommodation, etc.)
€2,600
€4,600
€6,400
€8,200
€11,000
Number of Lessons
20 lessons/week (including time of cooking, tasting & cleaning up)
Check-in (Sun) - Check-out (Sat)
[ 2021 ]
May 2 – May 15
May 16 – May 29
May 30 – Jun. 12
Jun. 13 – Jun. 26
Jun. 27 – Jul. 10
Jul. 11 – Jul. 24
Jul. 25 – Aug. 7
Aug. 22 – Sep. 4
Sep. 5 – Sep. 18
Sep. 19 – Oct. 2
[ 2021 ]
May 2 – May 29
May 16 – Jun. 12
May 30 – Jun. 26
Jun. 13 – Jul. 10
Jun. 27 – Jul. 24
Jul. 11 – Aug. 7
Jul. 25 – Sep. 4
Aug. 22 – Sep. 18
Sep. 5 – Oct. 2
[ 2021 ]
May 2 – Jun. 12
May 16 – Jun. 26
May 30 – Jul. 10
Jun. 13 – Jul. 24
Jun. 27 – Aug. 7
Jul.25 – Sep.18
[ 2021 ]
May 2 – Jun. 26
May 16 – Jul. 10
May 30 – Jul. 24
Jun. 13 – Aug. 7
Jun.27 – Sep. 4
Jul. 25 – Oct. 2
[ 2021 ]
May 2 – Jul. 24
May 16 – Aug. 7
May 30 – Sep. 4
Jun. 13 – Sep. 18
Jun.27 – Oct. 2
Note:
Due to a SUMMER BREAK, the school will be closed from August 7, 2021, to August 22, 2021.

Including


Enrollment fee,
Tuition,
Facilities fee (no materials),
Orientation,
Welcome lunch,
Welcome kit (city map, pen, notebook, file folder, bus pass, one lunch ticket),
English interpreting service (during lessons with the professor),
Housing: shared apartment – twin room (single room available),
Housing utility expenses,
Meal vouchers (2 daily meal vouchers a week + 2 Coffee/tea/mineral water vouchers a week),
Weekly guided art visits,
Cultural excursions (2 times/4 weeks)

If you would like to take cooking in specialized area, please inquire.
Italian Home Cooking Examples
A sample menu for 1 week
A sample menu for 1 month